Sand water separator
updated by: 2017-10-25 17:54:31 Categories: Sand water separator  Viewed by: 527 times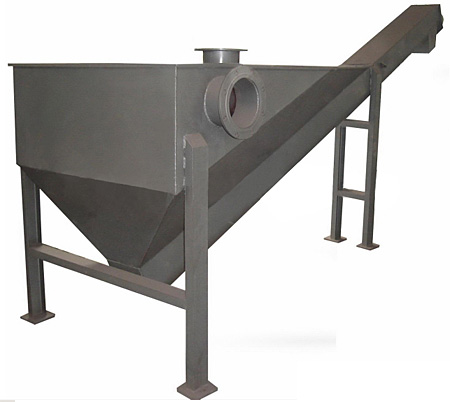 Uses:
LSSF type series sand water separator for sewage treatment plant, will sink sink sand pool sand pool of water from sand to split water sand mixture.
Features:

This product is in the digestion and absorption of the introduction of products, based on the introduction of products in China, according to the use of the design improvement. To resolve some foreign product line change inconvenience and article spiral axial position can not be adjusted defects. The characteristics are as follows:
1) separation efficiency of 96% ~ 98%, can separate particles diameter > = 0.2 ram particles
2) no water bearing, line for fast loading type article, easy maintenance.
3) spiral axial position can be adjusted, easy to adjust its tail and the security clearance. The box
Structure and working process
LSSF series sand by without shaft screw water separator, lining, u-shaped slot article, water tank, guide plate, water dam and drive equipment etc
Sand mixture water from the top end input water tank, separator mixture of moderate to larger such as sand will be deposited on the bottom, in the spiral groove type, driven by the sand buy U the groove bottom ascension, leave after liquid surface goes on from a distance, to continue in full by the row after dehydration sand sand discharge to mouth filled with sand sand barrels, and after the separation from water is being exhausted from port and sent to overflow into the pool in factory.
The effluent is fed into the container from the top. Solid particles settle down at the bottom of the sludge funnel and are carried out by a conveyor screw. Pre-dewatering in the final section of the conveyor trough allows a partly dewatered discharge of solids.
The solids separator can additionally be fitted with lamellas. Its function is then comparable to a lamella separator, whereas relatively large (heavy) particles are discarded only. Residual fine particles can be separated using, for example, a lamella separator.